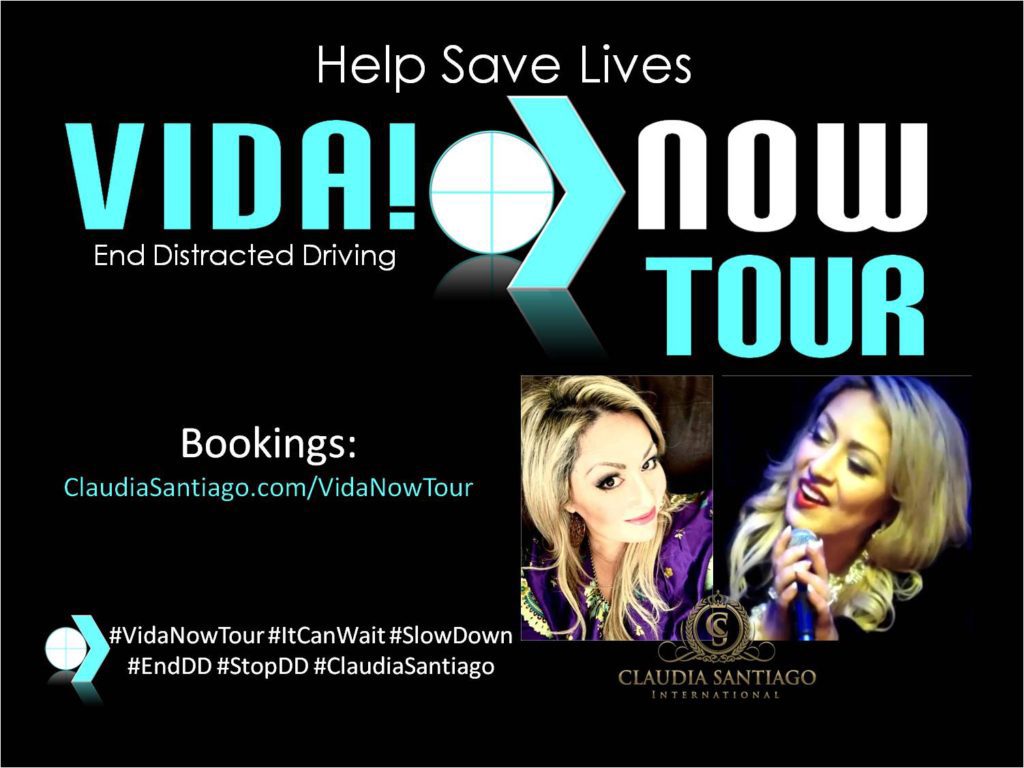 CLAUDIA SANTIAGO
VIDA! NOW Tour
::
"Help Save Lives: Stop Distracted Driving – It Can Wait – Slow Down"
::
VIDA NOW TOUR – Now Booking:
– International Live Broadcast Events
– Student Awareness – School Live Events
– Corporate/Business Live Events
– Community Live Events
[ Click Here for Claudia Santiago for  VIDA NOW TOUR Bookings ]
#SlowDown #ItCanWait #StopDD #DistractedDriving #VidaNowTour #ClaudiaSantiago

---
Some FAQs About Distracted Driving
Stats:
Each year, 4,000 to 6,000 people die and another 400,000 to 600,000 people are injured because of distracted driving in the United States (about 12 people a day). Globally, the annual number of deaths and injuries are in the millions.
More Dangerous Than Drunk Driving
Drunk driving kills almost 10,000 people and injures another 290,000 people each year in the United States. Experts are predicting that because of the increased use of mobile technology, the number of deaths due to distracted driving is on pace to exceed the number of drunk driving deaths in the next three to five years. What that means is you or a loved one will have a greater chance of being harmed or killed by a distracted driver than a drunk driver.
Liz Mark's Story:
This is the story of how my daughter Liz's car accident from texting while driving has changed our lives forever. If you get a text, don't look at it while you're driving. It's not worth it.
Josh's Story: